==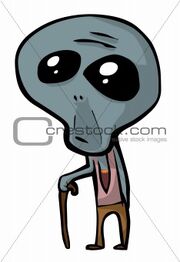 Lt. Stan(Lieutenant Stan)== Lt. Stan is the father of Stan Boy and brother of The Evil General Stan. He has saved the lives of fifty billion people on New Earth. He has lived and survived through 8 wars and 5 generations and also 14 decades. He is known as The Great Alien and The Mystery. During the 2040s, he was thought to be dead because he was missing for that whole decade. He was hiding in his underground basement during the time hiding from the Brain's Henchmen.
See the Timeline to see more about the Century of New Earth.
Lt. Stan was born in January 18th 1920. His parents were machine makers during the time. When Lt. Stan was 5, his dad has died after a car accident. So Lt. Stan was left alone with his mom. When Kt. Stan turned 18, he heard news of World War 2 coming. He decided to join the war for money. In 1941, the Germans destroyed
half of Europe and Lt. Stan was part of the Russian Army. In 1942, He became one of Russia's Survivors.
Then they called him Colonel Stan for his courage and his great skills.
In 1943, Lt. Stan was almost dying until Pinball Guy joined the war and recovered Lt. Stan.
They both became War Pals.
In 1944, Pinball Guy died of some shot from one of the Germans.
In 1945, Lt. Stan defeated Hitler's army along with the rest. He was happy to celebrate.
Then 5 years later, Pinball Guy's wife died after a unlikely suicide.
Lt. Stan began looking after Pinball Head for many years.
In 1965, Lt. Stan's mom died of old age. So Lt. Stan got married a few days later.
In 1975, Lt. Stan got eighteen children. they lived happily. 11 twins out of 18.
In 1980, Lt. Stan got two more children. Lt. Stan's youngest child, Stan Boy was born.
In 1985, General Stan assasinated his wife and his kids except Stan Boy who was hiding under the bed.
In 1990, Lt. Stan and his son were caught and was sent to BrainCorp jail. Lt. Stan gave his son a charm to make him not grow older.
In 2000, Lt. Stan and his son escaped from Jail.
In 2011, The City of New York was getting destroyed. Lt. Stan saved 8 million lives and was called Lt. Stan.
In 2015, World War Three started in New York. Lt. Stan and his son joined the war. Lt. Stan saved billions of people in the war.
In 2020, Lt. Stan won 20,000 medals and 50,000 trophies for saving loads of people. billions of people were born everyday since that day.
In 2025, World War Four began, Lt.